Automatic Car Washer – Smartwash
---
An ingenious equipment which reduces your manpower and amplifies your efficiency. The new generation Smart wash is unarguably our best ever Automatic Car washer in India. It comes with better technical efficiency and longevity. This automatic car wash machine is equipped to deliver a spotless and glossy car in a little more than five minutes.
DURABLE
Corrosion resistant Hot dipped galvanized structure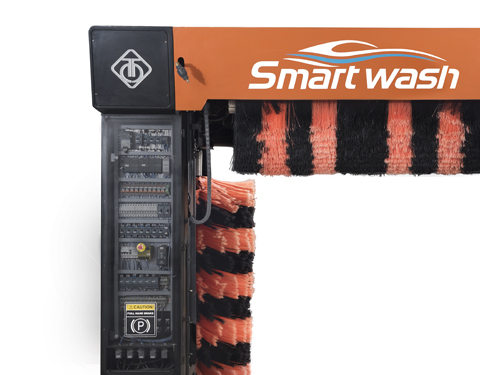 LESS MAINTAINENCE
Variable Frequency drives with zero maintenance
MODERNISTIC
Cutting edge aesthetics
CUSTOMIZED
Diverse washing patterns to suit every customer's need.
GENTLE
Soft and delicate polyethylene brushes for gentle scrubbing
ZERO LAG
"Zero Lag" technology for maximum power and water savings
VARIED LENGTH BRISTLES
Varied length wheel wash bristles can wash even the most unreachable parts of the wheel
SIMULTANEOUS UNDER CHASSIS
Simultaneous under chassis wash to save more time
TOUCH SCREEN OPERATION
10" daylight touch screen for better interface
SPLASH GUARD
Optional Splash guard to prevent surplus water spray
OSCILLATING NOZZLES
High pressure Oscillating nozzles operating at a pressure of 62 bar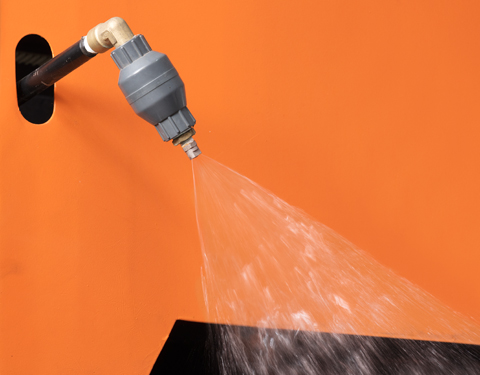 UNIFORM SPRAY
Uniform wax spray to improve reflective index
NON CORROSIVE
Non corrosive pH balanced shampoo
PRECISION NOZZLES
Tactically placed Stainless steel precision nozzles with wider spray angle for 360 degree coverage
PROFILE SENSING
Contour flowing blower reaches out to the whole profile of the vehicle
Features & Benefits
Specifications
Variants
Catalogue
Video
Request a Quote
Stainless Steel precision nozzles
Wax to improve reflective index
Optimized flow control in side and top blower
Increased Productivity( 3-7 minute operation time)
Reduced water consumption ( 85 liters to 130 liters per car )
Reduced labor costs ( Only one operator needed )
SPECIFICATIONS
SMART WASH
NO OF BRUSHES
Vertical brush
2 Nos
Horizontal brush
1Nos
RECOMMENDED BAY DIMENSION
Length
10000 mm
Width
4600 mm
Height
5000 mm
MAX. VEHICLE ACCESS
Length
5200 mm
Width
2000 mm
Height
2300 mm
WASHING SYSTEM
PLC AUTOMATION
BRUSH MATERIAL
Polyethylene
SHAMPOO / WAX MIXING CONTROLS
Venturi system
DRYING
Type
Automatic
| Parameters | Smart Wash HP | Smart Wash FP | Smart Wash SP | Smart Wash EP |
| --- | --- | --- | --- | --- |
| High Pressure Pre Wash | ✔ | ✘ | ✘ | ✘ |
| Body Wash | ✔ | ✔ | ✔ | ✔ |
| Wheel Wash | ✔ | ✔ | ✘ | ✘ |
| Drying | ✔ | ✔ | ✔ | ✘ |
| Under Chassis Washer (Optional) | ✔ | ✔ | ✔ | ✔ |
| Shampoo | ✔ | ✔ | ✔ | ✔ |
| Wax | ✔ | ✔ | ✔ | ✘ |
| HMI Touchscreen Operating Panel | ✔ | ✔ | ✔ | ✔ |
| Cycle Time Per Car, Min | 6 – 7 | 5 – 6 | 5 – 6 | 3 – 4 |
| Water Consumption Per Car, L | 120 – 130 | 85 – 100 | 85 – 100 | 85 – 100 |
| Power Supply | 3ph 415VAC( +10%, -15%), 50Hz | 3ph 415VAC( +10%, -15%), 50Hz | 3ph 415VAC( +10%, -15%), 50Hz | 3ph 415VAC( +10%, -15%), 50Hz |
| Connected Load | 29.5/22 HP/kW | 22/16.5 HP/kW | 21.5/16 HP/kW | 5.5/4 HP/kW |
| Maximum Operating Load | 18/13.5 HP/kW | 18/13.5 HP/kW | 18/13.5 HP/kW | 5.5/4 HP/kW |
| Power Consumption | 0.8 | 0.7 | 0.7 | 0.2 |
| Air Requirement | 7 bar/ 5 CFM | 7 bar/ 5 CFM | 7 bar/ 5 CFM | 7 bar/ 5 CFM |